A decade of Child Development Ministry Experience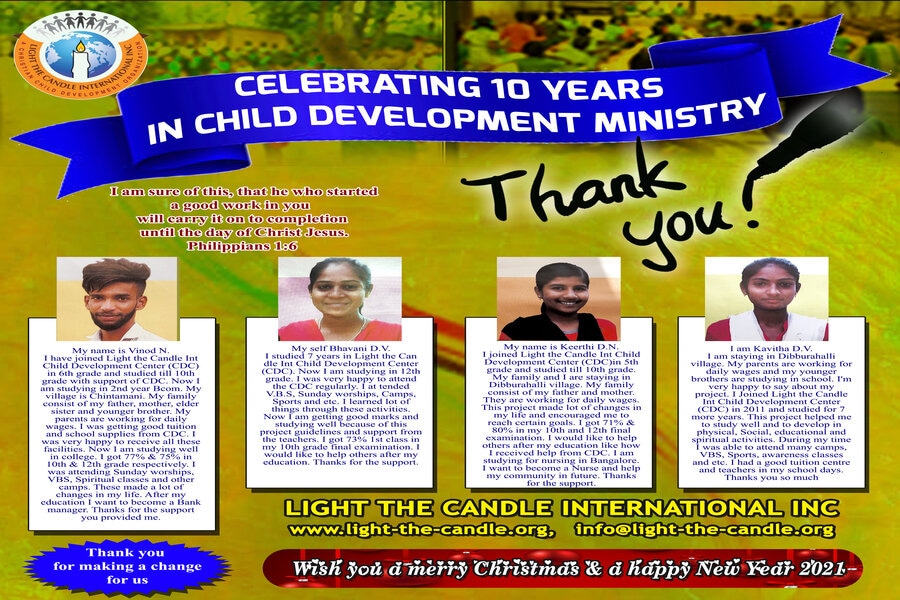 We started our first project on Nov 1st 2010 with 63 children. We take children from kindergarten age to 10th standard high school grade and train them in our child development programs.
Currently we have more than 800 children in 8 different projects attending CDC activities regularly. We have more than a decade of experience in training underprivileged children. Our training method focus on each child's personality development and skill developments. You can read more about our skill training method here – https://light-the-candle.org/?p=531
Below table shows number of children graduated 10th standard each year since 2014.
Year 2014 – 17 Children completed 10th grade successfully.
Year 2015 – 17 Children completed 10th grade successfully.
Year 2016 – 22 Children completed 10th grade successfully.
Year 2017 – 20 Children completed 10th grade successfully.
Year 2018 – 18 Children completed 10th grade successfully.
Year 2019 – 13 Children completed 10th grade successfully.
Year 2020 – 14 Children completed 10th grade successfully