Project Monitoring Methods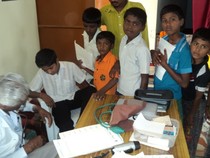 Light the Candle Board of Directors meet every month to review the monthly report from each project. During the monthly meeting, LTC board members meet and pray regularly for our projects, so that God's care will fall upon each of these children we serve.
Our Country supervisor visits all projects periodically and ensure that they follow the guidelines given for child development center program execution.
From each project, monthly attendance report, payment vouchers, receipts and academic program reports are sent to Light the Candle Board of Directors. Board Members review and evaluate program execution every month.
Light The Candle International Inc requires following reports from each project.

Monthly Activity reports
Monthly Finance expense report
Quarterly Student progress report
Daily Student Attendance report

Light the Candle International Inc has a defined process to evaluate new project proposals. Our team members visit potential project areas, prepare a feasibility report, evaluate compliance requirements and submit to Board of Directors for further evaluation and approval of new projects. Once the Board approve a new project, there is a strict milestones expectation for each project to grow in the child development work.